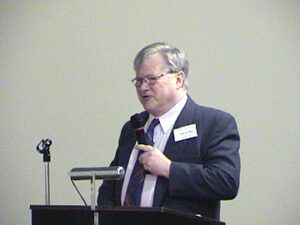 Andre Dorfman, a long-time pillar of the Trent Valley Archives, has passed away, aged 85.
Andre had a background in investments management and as campaign director for Bill Domm's first election; the only election in 60 years in which Peterborough did not select a candidate for the winning party. Andre grew up in Toronto and attended Ridley College. The family owned property now associated with the Glen Abbey Golf Club and on the Upper Stoney Lake southern shore identified with Ronnie Hawkins.
When we moved into the Fairview Heritage Centre, his wife Alma Dorfman arranged for the large green sign facing both Carnegie and Woodland Drive. Over the years Andre facilitated the transfer of many collections to Trent Valley Archives: notably, Wantasa Inn; the Upper Stoney Lake Cottagers Association; Dummer Township photos; maps of Stoney Lake; and a massive genealogical database of family connections in the Peterborough area, a database that he continued to update and augment.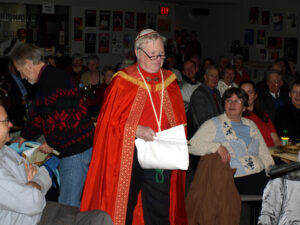 Andre was a regular on our Board of Directors for some years. He kept a close eye on our finances. He was a great supporter of our outreach with new events such as our Christmas concerts, most notably at Showplace, where he was a singing cardinal.
My most treasured memory of Andre was the tour of Stoney Lake that he masterminded. We had stops at McCracken's Landing, at the Upper Stoney Lake Association club house and at Viamede for lunch. We viewed the glass cottage, passed Eagle Mount and Davis islands. The maps have allowed me to revisit the sites in imagination. And as the guest of Blair Mackenzie I had another memorable visit to Juniper Island. As a prairie land lubber I appreciate these lake visits the more.
Much of Andre's life centred around Stoney Lake, and the communities nearby. We were lucky that Lakefield and Peterborough were in his orbit, and we will long treasure the memories. His love of local history and genealogy permeated what mattered to Trent Valley Archives.
Our condolences to Susan Kyle, Tim Dorfman and their families. RIP.
Elwood Jones