By Archivist Elwood Jones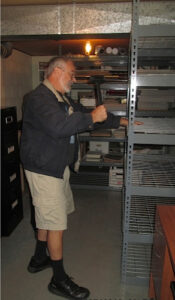 The Board of Directors of Trent Valley Archives has lost one of its most faithful and hard-working members. It is with sadness that we share the news that Herb Franklin passed away unexpectedly and suddenly.
Herb and his wife Sue were sustaining members for many years and recently became Patrons of the Trent Valley Archives.
Herb's past interests remained important as he worked with TVA. He was very knowledgeable about video recording and issues, was very practical and had a great singing voice. He had worked for the city police for 32 years. He was active in scouting for nearly fifty years. He volunteered on many projects and in every room he entered he brought cheer. He took particular interest in the physical aspects of our heritage property.
A favourite memory for me will be the day this past summer while watering the fresh lawn he spotted a doe in our parking lot; he was able to capture the photo. He was also my partner on one of TVA's cemetery tours. His sincere friendship and generosity will long be remembered. He was well-informed and was a convivial conversationalist.
We extend our condolences to Sue and the family on this tragic loss.
Trent Valley Archives will be closed this Saturday in tribute to the memory of Herb Franklin. Donations in his memory may be made to Grace United Church and to Trent Valley Archives.