An Evening with Elwood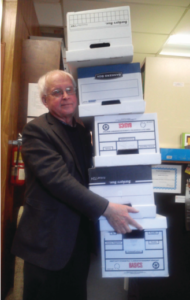 Featuring Dr. Elwood Jones
Archivist, Trent Valley Archives
Between now and December 31, 2019 purchase a new Trent Valley Archives Membership for yourself or for another history enthusiast and you and the recipient of the gift membership will be the guests of Dr. Elwood Jones for an exclusive tour of Trent Valley Archives on Monday January 27th from either 2-4 pm or 7-9 pm.
Dr. Jones will share some of this unique knowledge of the 800+ collections, 100,000+ photographs and millions of documents preserved at Trent Valley Archives.
The afternoon or evening will also include; a special giveaway to each participant, a local history themed draw prize, light refreshments and an array of insights, discoveries and revelations.
(Interested but already a member? Contact Heather)
Membership Include:
Individual Membership ($60.00)
Student Membership ($30.00)
Family Membership ($75.00)
Sustaining Membership ($250.00)
Note: Please fill out the 'additional information' box with the name of the giftee
---
Little Lake Cemetery Pageant a Huge Success
Trent Valley Archives' largest public event experienced record breaking ticket sales this year. The Little Cemetery Pageant, an annual event held on the last weekend of September, sold out five Saturday evening performances and three Sunday matinee performances.
Mother Nature even co-operated. Saturday's rain cleared in plenty of time and ticket holders, guided by lantern, took in seven different performances by local actors and history enthusiasts with a backdrop of changing fall colours in historic Little Lake Cemetery. Each story was carefully researched, written and performed by a committed group of individuals who dedicate their efforts to making the event a success.
Local actor Geoff Hewitson teamed up with researcher Shelagh Neck to write and perform his own piece, as did Tim Etherington who wrote three of the seven graveside tales on the tour featuring local actors Justin Boyd, Lauren Murphy, Sean Quinlan, Isaac Maker, Kaitlin MacMillan, Cian Aherne and June Govier.
Mary Conchelos wrote a piece featuring local actors Patricia Thorne and Hermione Rivison, while two creative teams, Dennis & Karen Carter Edwards, and Don Willcock & Colum Diamond, each wrote and acted their own pieces.
Trent Valley Archives wishes to acknowledge everyone who supported this theatrical event including the vital partners and volunteers who dedicate their time and effort each year. While the Little Lake Cemetery Pageant offers an entertaining glimpse of local history, it is also Trent Valley Archives' largest annual fundraising event and as such it is vital to the organization, which doesn't receive continuous funding from any level of government.
TVA promotes the preservation of local history and runs a variety of educational and outreach events, of which the Pageant is the most significant in terms of research, scope and production.
---
History Books
Trent Valley Archives has a selection of well loved history books available. Visit our shop to view the list of available titles. (Check back often, available titles subject to change.)
---
Trent Valley Archives is on Facebook || Visit us