Since 1989, Trent Valley Archives has promoted the preservation, identification and care of archives in the Trent Valley region. We support access to archival collections as well as the development of public regional and county or municipal archives. We encourage businesses and organizations to archive pertinent records and help individuals to care for their documents. Moreover, since 1998, we have maintained an archival repository with a collections mandate to accept original and copied archival documents relating to the Trent Valley. At present, we have more than 1000 cubic feet of documents relating to the people, events and places connected with the Trent Valley.
Mandate:
The Trent Valley Archives promotes the preservation, identification and care of archives; encourages local history and family history research; maintains a website and quarterly magazine; operates a major research facility, and raises public awareness of history and archives through historical tours and community events.
Our outreach programs include:
Publishing: We publish books about local history, as well as our award-winning quarterly magazine, The Heritage Gazette of the Trent Valley
Tours: Time travel with Trent Valley Archives by foot, bus, or bike! We offer historical tours of the area on a variety of themes. Visit our events page for more information.
Presentations: Trent Valley Archives takes history to you! Knowledgeable volunteers give talks and display items of interest at retirement homes, schools, and other organizations.
Did you know?
Unlike many archives that receive substantial government funding, Trent Valley Archives houses its unique and extensive collection of local historical resources and makes them available to the public 5 days a week, year-round, through membership, donations, and user fees.
Volunteers
Trent Valley Archives relies on the contribution of our dedicated volunteers. They provide their time and service to help support our many activities. Volunteers process new acquisitions and prepare finding aids, deliver tours and organize events, take care of the buildings and grounds, and support many projects behind the scenes.
You can make a difference too! Please contact us if you are interested in becoming a volunteer.
Awards
In 2014 Trent Valley Archives was honoured to be presented with the June Callwood Outstanding Achievement Award for Voluntarism. The award is meant to recognize persons or organizations who have made a lasting and meaningful contribution to their communities and have provided significant support to volunteer activities.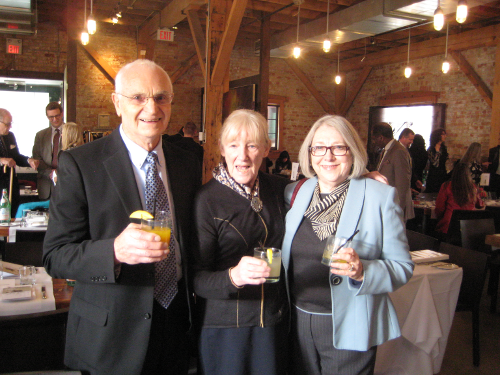 Guy Thompson, Susan Kyle and Audrey Armstrong representing TVA at the June Callwood award presentation
Trent Valley Archives' quarterly publication, The Heritage Gazette of the Trent Valley was recognized in 2004 by the Peterborough Historical Society with the F.H. Dobbin Award. This award is meant for a major publication, either fiction or non-fiction that focuses on Peterborough's past. That same year, Trent Valley Archives was also presented with the County of Peterborough Award for Recognition for Heritage Preservation.
Our very own Elwood Jones received the Ontario Historical Society Carnochan Award in 2014 for his many years of service to the heritage community. Congratulations Elwood!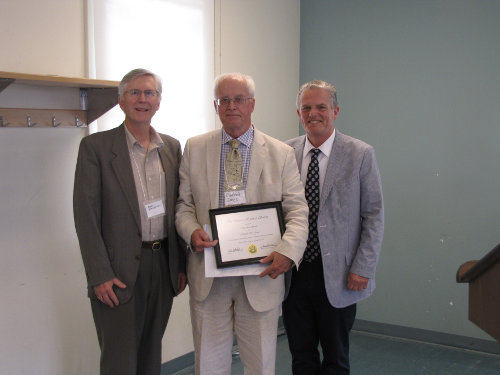 Elwood Jones' receiving the Ontario Historical Society Carnochan Award
Board of Directors
Steve Guthrie
– President

Alan Brunger
– Past President

Rick Meridew
– Treasurer

Karen Hicks
– Secretary

Gordon Campbell

Ruth Kuchinad

Madison More

Shelagh Neck

Mike Parnell

Dianne Tedford

Mae Whetung-Derrick