At Trent Valley Archives, we recognize the importance of helping people learn about their history. To this end, we host a variety of events throughout the year to help people access their past– and we do it in ways that are always informative and entertaining!
We run workshops on a variety of subjects, including history writing, interpreting land records, and caring for your archival documents. Our guided tours are also very popular — learn about Peterborough's heritage on foot, by bus, or by bike. Other events bring history to life through re-enactment.
Planning a special event? Private tours are available for groups of 15 or more. Our guided tours are popular for birthdays as well as workplace socials. A tour with Trent Valley Archives will show you a whole different side of Peterborough that you won't soon forget! To view some of the events we've run previously (and will likely run again), please visit our past events page. Contact us today to plan your event.
---
Aug
5
Thu
Mark Your Spot

@ Little Lake Cemetery
Aug 5 @ 6:30 pm – 8:00 pm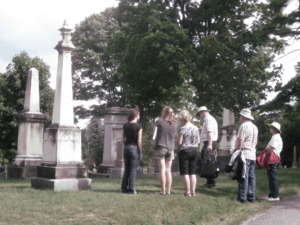 Architectural tour of Little Lake Cemetery
This tour will emphasise the architectural aspects of Little Lake Cemetery stones, mausoleums and the chapel. It is intended to help participants understand mostly the stones themselves, with their decorations and attributes.
Led by knowledgeable guide, Don Willcock, you will learn about the symbols including the various types of crosses, materials including the unique use of Zinc and why granite rather than limestone is the preferred choice today.