At Trent Valley Archives, we recognize the importance of helping people learn about their history. To this end, we host a variety of events throughout the year to help people access their past– and we do it in ways that are always informative and entertaining!
We run workshops on a variety of subjects, including history writing, interpreting land records, and caring for your archival documents. Our guided tours are also very popular — learn about Peterborough's heritage on foot, by bus, or by bike. Other events bring history to life through re-enactment.
Planning a special event? Private tours are available for groups of 15 or more. Our guided tours are popular for birthdays as well as workplace socials. A tour with Trent Valley Archives will show you a whole different side of Peterborough that you won't soon forget! To view some of the events we've run previously (and will likely run again), please visit our past events page. Contact us today to plan your event.
---
Oct
28
Thu
Eerie Ashburnham Tour (East)
Oct 28 @ 7:00 pm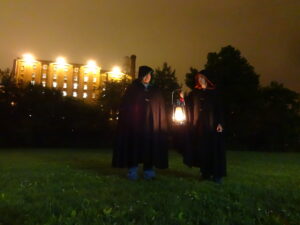 Tickets Available Monday October 11
East Side Stories features the haunted history of Peterborough's most famous structure, the Lift Lock. Participants will also learn about the Theatre Guild's ghost-in-residence and the strange sightings at the former St. Joseph's Hospital, as well as many lesser known hauntings. This tour also includes a trek up Armour Hill, so bring a flashlight, wear good walking shoes and be prepared for a workout.
Oct
29
Fri
Eerie Ashburnham Tour (West)
Oct 29 @ 7:00 pm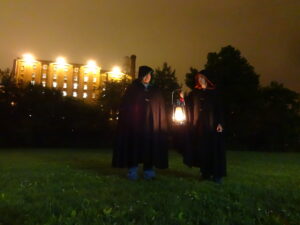 Tickets Available Monday October 11
This East City tour, will bring alive the dark side of Ashburnham. Friendly and knowledgeable guides will lead you by lantern light through the streets, expertly weaving together the ghosts and the stories behind them.
From the hauntings at Quaker Oats in connection with the 1916 fire to the strange happenings at Engleburn, you'll be mesmerized by the experiences that many in the area have reported. As some have done on previous tours, you might even hear the "talking trees" on your walk near the Hunter Street Bridge.