---
New Books!
Peterborough Irish
Trent Valley Archives is pleased to announce the upcoming publication of Howard Pammett's classic work on the Peter Robinson Settlers. Peterborough Irish will include Pammett's updated narrative and an introduction by Elwood H. Jones.
In his "The Assisted Irish Emigration to Upper Canada under Peter Robinson in 1825," Pammett was the first historian to analyze the Peter Robinson papers documenting the British government's first assisted emigration experiments in 1823 and 1825. The story of the emigration, settlement in the Ottawa and Peterborough areas, and the subsequent trials and successes of the settlers attracted wide attention shortly after their arrival and in the two centuries following. The new introduction discusses Pammett's accomplishment, along with observations on other works touching on Ireland, on pre-Famine emigration, and on the history of Peterborough, Victoria and Hastings Counties.
Trent Valley Archives has considered, over thirty years, how best to make Pammet's foundational work accessible. We have worked hard to confirm the sources and review wider pertinent and engaging archival and historical resources. Text, bibliography and footnotes have been checked for clarity and accuracy, and this edition will include illustrations and maps as well as an updated bibliography.
---
Green Routes: Experiencing the Peter Robinson Emigration 1825
Rosemary McConkey has been spinning stories about the Irish in the Peterborough area for many years. As the bicentennial of the major Irish emigration of 1825 approaches, she shares her favourite stories in a book, Green Routes. The stories span some 200 years and showcase the impressive legacy of the Peter Robinson Settlers and their descendants from before, during and after their transatlantic voyage. These families developed a love for Canada over generations.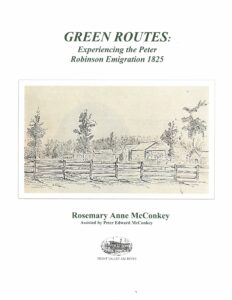 Green Routes looks at different experiences by the Robinson Settlers of 1825 and their descendants. Stories of the earliest Robinson settlers include that of schoolmaster Patrick Barragy and his brave efforts to persuade the government to support schools for new emigrants. McConkey also writes about the Robinson settlers of Douro Township who were truly thankful for the opportunities that came from emigration. Her fascination extends to descendants whose far-flung paths took them to destinations as far away as Indiana and points in the American mid-west, including Coach Frank W. Leahy of the University of Notre Dame football team.
These stories resonate with Peterborough experiences at other times. The area has a long history of migrations, short and long, coming in or going away. The First Nations, the Colony Settlers, later emigrations of Irish, British, and Italians, those from other parts of Canada, and more recently from diverse parts of Asia and Central America have come to Peterborough.
Green Routes looks at different experiences by the Robinson Settlers of 1825 and their descendants. In part, McConkey pays tribute to the resilience of the pioneers and their enduring values. She also invites others to join her in celebrating their continuing contributions to the life of Peterborough city and county.
---